Don't let the hassle of pistachio debris dampen your snacking pleasure any longer. Experience the ultimate solution with the Uncommon Goods Pistachio Pedestal.
This meticulously crafted and ingeniously designed server will revolutionize the way you enjoy pistachios, offering convenience, elegance, and functionality in one. Elevate your nut-serving experience today and say goodbye to the mess with the Pistachio Pedestal by Uncommon Goods.
Uncommon Goods Pistachio Pedestal: Elevate Your Nut-Serving Experience
Are you tired of the pesky debris that comes with enjoying pistachios? Look no further! We present to you the innovative and stylish solution to this age-old problem—the Uncommon Goods Pistachio Pedestal. With its unique design and functional features, this pedestal is set to revolutionize the way you savor pistachios.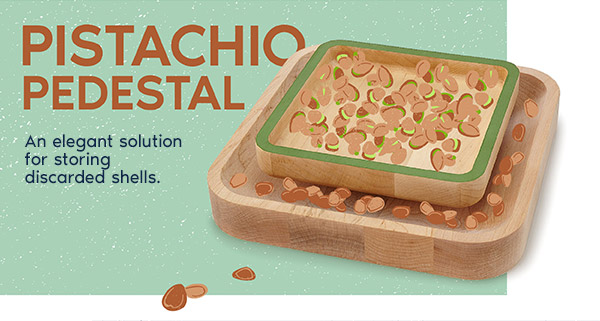 Product Specifications:
Made from: Maple, teak oil, milk paint
Measurements:

Entire Pistachio Pedestal: 9″ L x 9″ W x 2.2″ H
Top Piece: 6.5″ L x 6.5″ W x 1″ H; Capacity: 8 oz of whole nuts

Care: Wash with warm soapy water and dry immediately. For long-term care, apply mineral oil or beeswax wood conditioner every few months.
Preserve and Condition: Help maintain the quality of your board by regularly applying mineral oil.
Design and Functionality: Inspired by Pistachios
The Pistachio Pedestal takes inspiration from the form and colors of pistachios in the shell, resulting in a visually appealing and organically coordinated design. Its two-tiered server structure is carefully crafted to meet your needs. The upper tier, capable of holding up to 8 ounces of whole nuts, ensures easy access and serving convenience. The lower tier, with its broader surface area, provides an elegant solution for storing discarded shells, eliminating the need for makeshift dishes.
Quality Construction and Attention to Detail
Crafted from solid, sustainable North American Maple, the Pistachio Pedestal boasts impeccable construction. Each piece is meticulously hand-routed, hand-sanded, and finished with teak oil to ensure a smooth and food-safe surface. You can trust in the durability and reliability of this thoughtfully designed pedestal.
Convenience and Practicality in One
Bid farewell to the annoyance of pistachio debris scattered in your hands, pockets, or aftermath of a party. The Pistachio Pedestal offers a dedicated space for shell disposal, keeping your snacking area tidy and mess-free. When it's time to dispose of the shells, simply separate the tiers for easy and efficient cleanup. Say goodbye to the days of searching for a suitable place to discard pistachio shells—this pedestal has got you covered.
Uncommon Goods: Crafted in Dorset, Vermont
The Pistachio Pedestal is proudly brought to you by Uncommon Goods, a renowned name in unique and innovative products. Crafted in the picturesque town of Dorset, Vermont, this pedestal embodies the spirit of quality craftsmanship and attention to detail. Uncommon Goods' commitment to excellence shines through in every aspect of this exceptional design.
Elevate Your Nut-Serving Experience
Enhance your nut-serving experience with the Uncommon Goods Pistachio Pedestal. Enjoy the convenience of easy access to whole nuts while having a designated space for discarded shells. The pistachio-green rim adds a touch of elegance to your serving arrangement, making it perfect for both everyday use and special occasions. Don't settle for a subpar snacking experience—invest in the Pistachio Pedestal and take your love for pistachios to new heights.
With a wide range of innovative and artistic products, Robert Kline Art is your go-to destination for finding the perfect blend of creativity and practicality. Don't miss out on the opportunity to enhance your lifestyle with exceptional pieces like the Uncommon Goods Pistachio Pedestal.
| | |
| --- | --- |
| ✅ Quality | 💯 Premium |
| ✅ Price | ⭕ Most Affordable on the Market |
| ✅ Shipping | 💯 Free Shipping USA |
| ✅ Tax | ⭕ Free Tax All Order |