Mason Jar Indoor Herb Garden: Create Your Own DIY Indoor Herb Garden with Style
Introduction
Having fresh herbs at your fingertips can elevate your culinary experience, and what better way to achieve this than with a Mason Jar Indoor Herb Garden? This do-it-yourself project combines functionality and aesthetics, allowing you to grow your favorite herbs right in your kitchen. In this article, we will explore the benefits of having an indoor herb garden, the key features of the Mason Jar Indoor Herb Garden, and provide a step-by-step guide to help you create your own.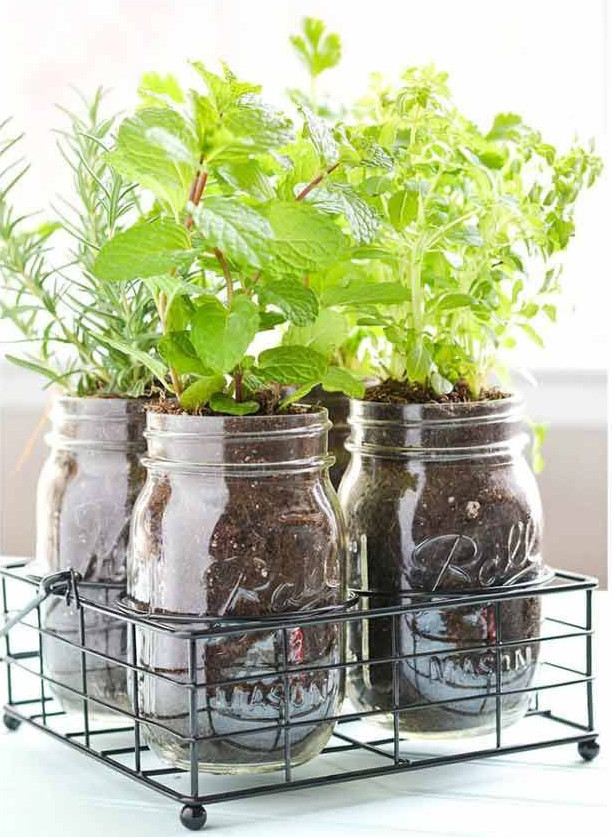 Creating a Diy Mason Jar Indoor Herb Garden
To embark on your DIY indoor herb garden journey, you will need a few materials. Gather Mason jars, potting soil, herb seeds, and labels for organization. Now, let's dive into the step-by-step instructions:
Selecting the right Mason jars:
Choose Mason jars of appropriate size and ensure they have drainage holes or can be modified to allow excess water to escape.
Preparing the jars for planting:
Clean the jars thoroughly, ensuring they are free from any residue or contaminants.
Choosing the herbs to grow:
Select your favorite herbs based on your culinary preferences and the amount of sunlight your kitchen receives. Popular choices include basil, mint, parsley, and rosemary.
Planting the herbs in the jars:
Fill the jars with potting soil, leaving some space at the top. Plant the herb seeds according to the package instructions, ensuring they are evenly spaced.
Caring for the indoor herb garden:
Place the jars in a well-lit area, preferably near a sunny window. Water the herbs regularly, keeping the soil moist but not waterlogged. Trim the herbs as needed to promote healthy growth.
Placement and lighting considerations:
Ensure your indoor herb garden receives adequate sunlight, usually 6-8 hours a day. Consider using artificial grow lights if natural light is limited.
Harvesting and using the herbs:
Once your herbs have matured, you can start harvesting them. Simply snip off the desired amount of herbs for your recipes, and enjoy the fresh flavors they add to your dishes.
>>See more : Planting Instructions Mason Jar Indoor Herb Garden
Advantages of Using Mason Jars for Indoor Herb Gardening
The Mason Jar Indoor Herb Garden offers several advantages that make it an ideal choice for growing herbs indoors.
Stylish and decorative appeal: Mason jars add a rustic and charming touch to any kitchen decor, enhancing the overall aesthetics of your space.
Easy to monitor plant growth and water levels: The transparent nature of Mason jars allows you to easily monitor the growth of your herbs and assess when they need watering.
Sustainable and environmentally friendly option: By reusing Mason jars, you contribute to reducing waste and adopting a more sustainable lifestyle.
Versatility and adaptability: Mason jars can be easily customized and adapted to suit your specific indoor gardening needs. They are flexible enough to accommodate different herb varieties and fit into various spaces.
Conclusion
With the Mason Jar Indoor Herb Garden, you can enjoy the convenience and freshness of homegrown herbs right in your kitchen. By following the step-by-step guide and implementing the tips and tricks provided, you'll be well on your way to creating a thriving indoor herb garden that adds both flavor and beauty to your culinary adventures. Start your DIY indoor herb garden project today and reap the rewards of having a constant supply of fresh herbs at your fingertips.
Visit Robert Kline website to explore this delightful product and embark on a journey of green-thumb success in the comfort of your own home.
| | |
| --- | --- |
| ✅ Quality | 💯 Premium |
| ✅ Price | ⭕ Most Affordable on the Market |
| ✅ Shipping | 💯 Free Shipping USA |
| ✅ Tax | ⭕ Free Tax All Order |