Advice for how to make a memorial shadow box to remember a loved one who has passed away.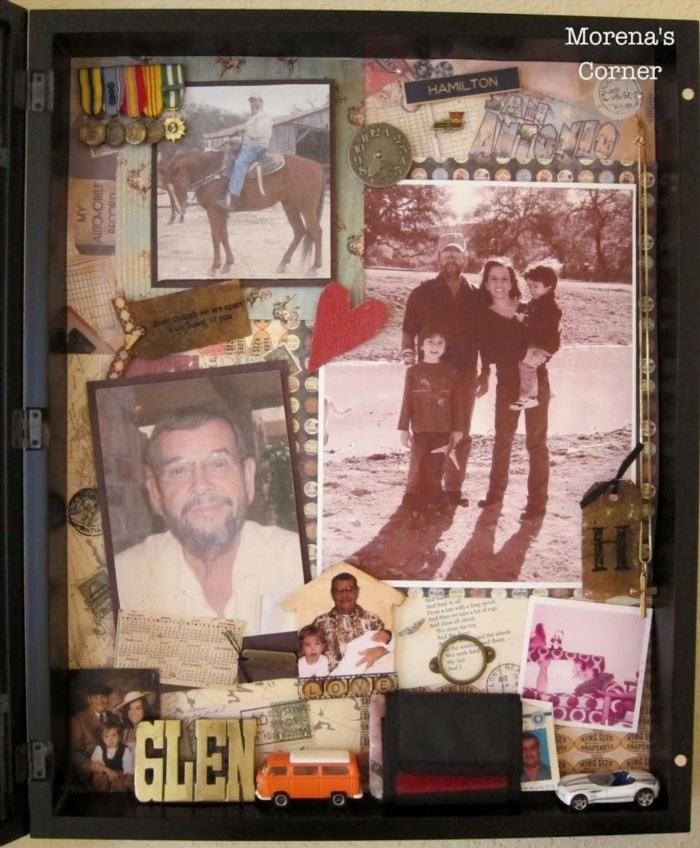 In times of losing a dear one, we frequently seek avenues to commemorate their life and perpetuate their memory. An exquisite shadow box offers a splendid means to safeguard and exhibit cherished moments.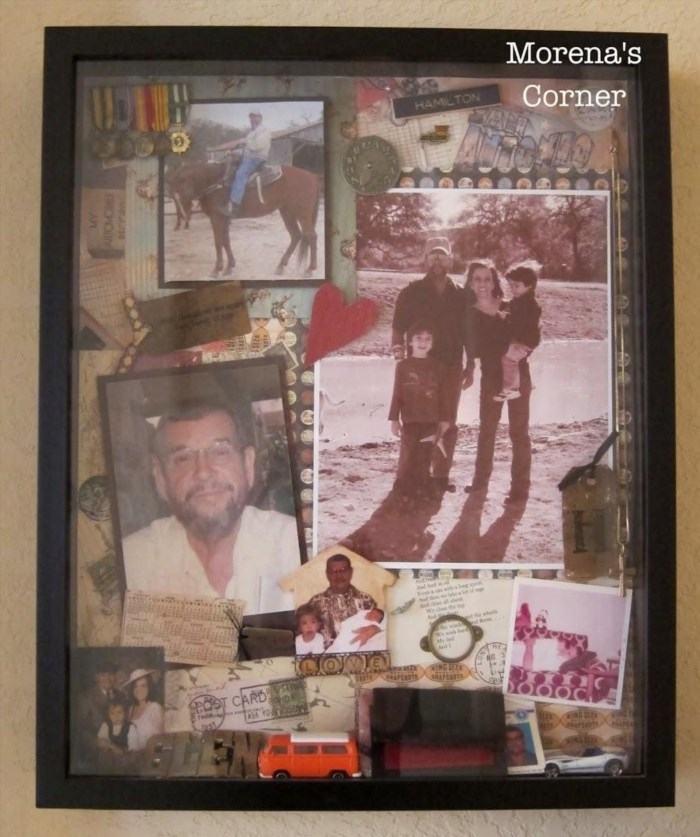 After the sudden demise of my father two years ago, I found myself grappling with the challenge of preserving his memory in the hearts of my young children. Despite my extensive online search for inspiration, I was left empty-handed. Determined, I devised a unique concept – a shadow box encapsulating cherished mementos and precious memories. It is my earnest wish that my innovative approach and recommendations may guide and assist those seeking a meaningful way to pay tribute to their departed loved ones through a memorial shadow box.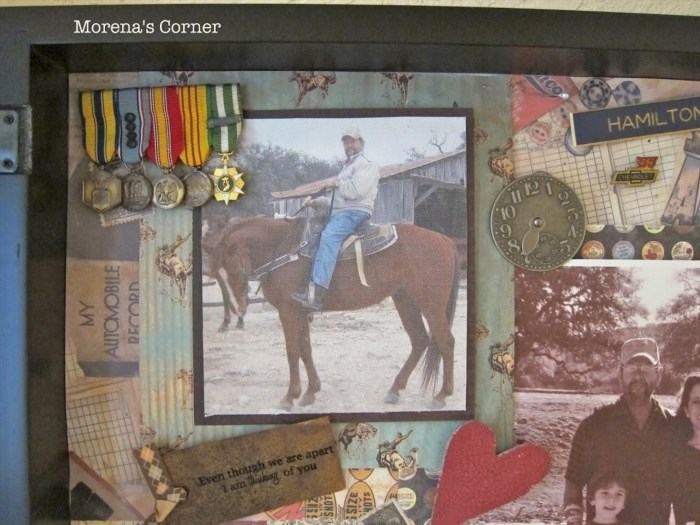 Embrace the unhurried pace. There exists no absolute formula or incorrect manner to embark on this venture, thus refrain from fixating on achieving the pinnacle of flawlessness. Initially, the mere sight of my father's photograph evoked an overwhelming anguish, rendering it unbearable. However, commencing this endeavor surprisingly proved to be a solace. Engaging in introspection of his existence, sifting through an array of captured moments, and discerning the most emblematic mementos unexpectedly yielded profound therapeutic effects.
2. Delve into the realm of photographs and handpick cherished moments brimming with nostalgia. I opted for the timeless allure of canvas photo paper to imbue them with a gentle and tender touch. Utilizing Mod Podge, I affixed the print onto a sturdy cardstock mat, ensuring its seamless integration.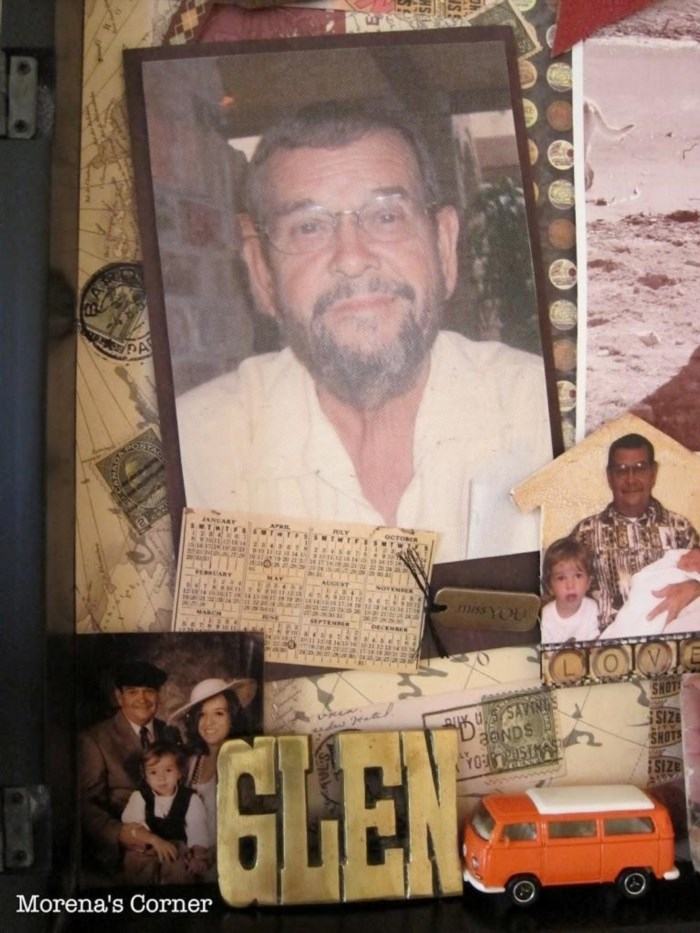 3. Select the elements to incorporate into the shadow box. I stumbled upon the majority of them amidst my father's desk and within his bedroom. These were tiny treasures that he had cherished throughout the years, each possessing a special significance to him. Medals, name tags, photographs, hastily written notes, wallets, belt buckles, and similar items seamlessly find their place within a shadow box. Additionally, the inclusion of poems and captivating passages from books, just like I have done, can further enhance your exhibition.
4. Let your imagination run wild when choosing your backdrop. There's no need to break the bank on fancy papers or scrapbooking supplies. Sometimes, the treasures left behind by your dear one, such as vintage maps, ticket stubs, receipts, or even collector cards, can create an exquisite canvas. In honor of my adventurous and automobile-loving dad, I handpicked papers and stickers that embodied his passions and the cherished locations we called home.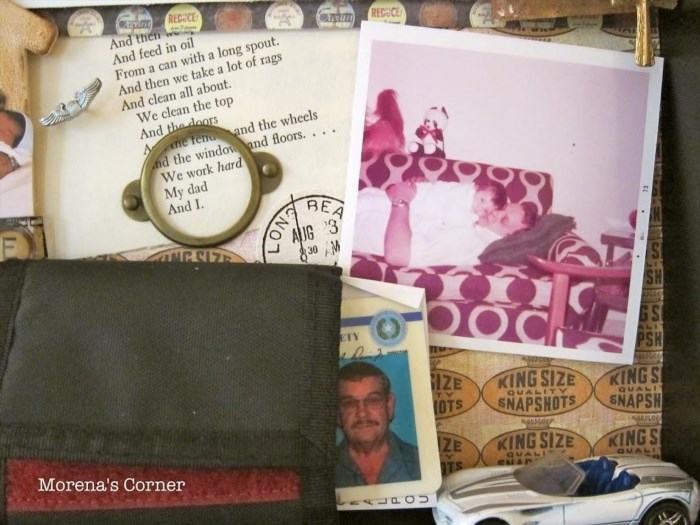 5. Organize your arrangement. Once again, there are no set rules or incorrect approaches to tackle this task. I opted to position my papers on the ground in close proximity to my desk and commenced placing various items on top of them. I persistently rearranged the elements until I reached a point of utmost satisfaction with the visual appeal. It consumed roughly a fortnight of gradually returning to the project and meticulously scrutinizing every aspect.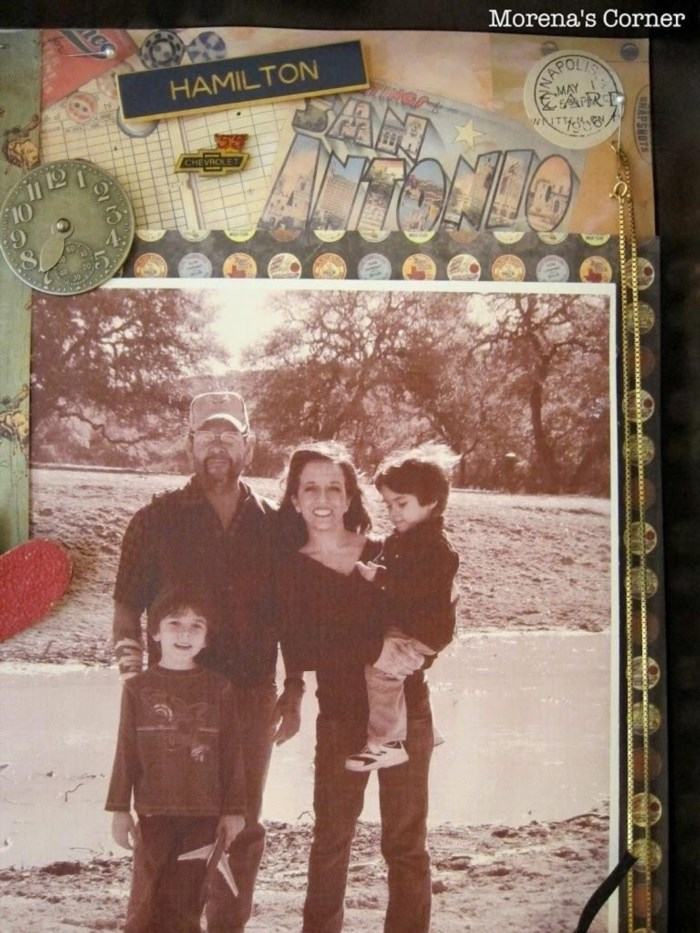 6. Put together your personalized shadow box. I acquired mine at Hobby Lobby, opting for a variant with a charming fabric backdrop. This clever choice allows me to effortlessly attach and reposition items using pins. Begin by arranging your background papers, building up the layers one by one. For optimal results, I recommend saving the placement of weightier objects for after you have securely hung the frame.
7. Extend an invitation to others to contribute to the commemoration. I deliberately positioned my shadow box at a lower height so that my children could easily gaze at it. With excitement, they placed the cars (cherished presents from my father) inside the box.
May these tips prove valuable, serving as a guiding light during your journey of healing from a loss. Please don't hesitate to reach out, whether through comments or email, should you require any clarifications or seek additional inspiration.