The sheer magnificence of teachers never fails to astonish me, particularly the ones I am acquainted with. Aubrey's educators exhibit remarkable qualities of patience and kindness, perpetually sporting wide smiles. I hold immense admiration for her preschool, where the children are captivated through imaginative play, hands-on experiments, nurturing plants, and culinary adventures.
As the year drew to a close, she stood on the brink of her final program, and I yearned to convey my heartfelt appreciation to her exceptional teachers. Throughout this year, they have nurtured her growth and facilitated an immense amount of learning. Determined to convey the depth of our gratitude, I crafted a whimsical token of appreciation.
I utilized a clay container from Hobby Lobby and painted the foundation in a dark shade, while the edge was adorned with a vibrant yellow hue.
I grabbed my tape measure and encircled it around the edge, then indicated the small measurement markers.
Afterwards, I transformed the lines into a sleek black hue, while incorporating a distinct numeral to signify every inch. In retrospect, employing a slender, indelible pen would have been ideal. However, lacking such a tool at the moment and with the looming deadline of delivering these items just a few hours away, I resorted to painting them hastily (albeit with slightly imperfectly aligned lines).
I splurged on a delightful bunch of crimson blossoms from the local nursery, carefully portioned them out, and nestled them into separate planters. After quenching their thirst with a gentle sprinkle of water, I anxiously hoped for their survival, even if just until sunrise. Alas, my gardening prowess leaves much to be desired.
I purchased "Gratitude" gift vouchers from Target. I affixed those to skewers and inserted them into the blossoms.
The appearance of this object pleased me, yet it lacked a certain element, prompting me to retrieve my chalk and inscribe a heartfelt message on the surface of the container… Gratitude for nurturing my growth.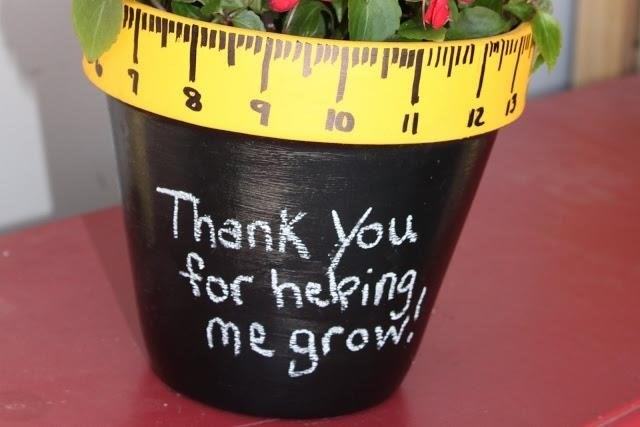 There you have a practical, considerate, and distinctive present for teachers that costs less than $10.